High blood pressure medication
Introduction
The purpose of this tool is to help you decide whether high blood pressure medication is right for you. When making a decision like this, you must balance:
The reasons for taking the medication
The potential health risks, drawbacks, or limitations of the procedure
Whether there are alternative procedures that may be more appropriate
Cost
This tool is not a substitute for professional medical care and advice. Work with your doctor to help you make this decision. A second opinion from another doctor may be valuable. Medication always has potential side effects, and you should be fully informed about the risks and benefits of this type of medication. There is usually no exact "right" or "wrong" answer.
Your physician may make certain recommendations
What is the medication?
Hypertension means high blood pressure. This generally means:
Systolic blood pressure is consistently 140 or greater (systolic is the top number of your blood pressure measurement, which represents the pressure generated when the heart beats)
Diastolic blood pressure is consistently 90 or greater (diastolic is the bottom number of your blood pressure measurement, which represents the pressure in the blood vessels when the heart is at rest)
Either or both of these numbers may be too high.
The goal of treatment is to reduce blood pressure to a level where you have a lower risk of complications from high blood pressure. Treatment usually takes place at home with close supervision by your health care provider, but it may occur in the hospital if your blood pressure is dangerously elevated.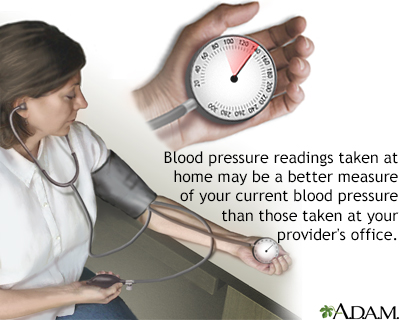 Medications for high blood pressure may include diuretics, beta-blockers, calcium channel blockers, angiotensin-converting enzyme (ACE) inhibitors, angiotensin receptor blockers (ARBs), or alpha blockers. You may need medications such as hydralazine, minoxidil, diazoxide, or nitroprusside if your blood pressure is very high.
Key points
High blood pressure is often called "the silent killer." This is because high blood pressure usually has no symptoms until it has done a lot of damage to the blood vessels, heart, brain, kidneys, or eyes.
Untreated high blood pressure can cause a stroke, heart attack, and heart or kidney failure.
Long-term high blood pressure may also lead to loss of cognitive brain function.
Blood pressure often increases with age. Over 70% of people over age 75 have high blood pressure, but only 20% of people between the ages 35 - 44 have it.
Severe or hard-to-treat high blood pressure in a young person may be caused by another health problem, such as kidney disease.
High blood pressure is a major cause of impotence in men.
Normal systolic blood pressure is when the top number is less than 120. Normal diastolic pressure is when the bottom number is less than 80.
Prehypertension is when the top number is 121 - 139 or the bottom number is 81 - 90.
Several different kinds of medicines can treat high blood pressure.
Doctors will consider the following when prescribing high blood pressure medicine:

Will it lower your blood pressure significantly?
Will it have side effects?
Do you have conditions, such as diabetes or heart disease, that may make one kind of medicine more beneficial?
Is the medicine affordable?

Many people will need more than one medication to lower their blood pressure to a safe level.
There is no cure for most people with high blood pressure. Treatment usually includes diet, exercise, and medications for the rest of your life.
You need to be motivated to control your high blood pressure.
You need to have regular doctor visits to control your high blood pressure.
How much time this decision tool will take
What this tool will provide
A personalized list of factors for you to weigh
Questions to ask your doctor
Alternatives to this medicine
Recommended reading
---
Review Date: 12/31/2010
Reviewed By: David C. Dugdale, III, MD, Professor of Medicine, Division of General Medicine, Department of Medicine, University of Washington School of Medicine. Previously reviewed by Larry A. Weinrauch MD, Assistant Professor of Medicine, Harvard Medical School, Cardiovascular Disease and Clinical Outcomes Research, Watertown, MA. Review provided by VeriMed Healthcare Network (10/20/2008).
References:
Seventh report of the joint national committee on prevention, detection, evaluation, and treatment of high blood pressure (JNC 7) express
Guidelines subcommittee. 1999 World Health Organization -- International Society of Hypertension.
Guidelines for the management of hypertension. J Hypertens. 1999;17:151-83.
Farsang C, Sleight P. Isolated systolic hypertension: Cardiovascular risk and treatment benefits. European Society of Hypertension Scientific Newsletter: Update of Hypertension Management. 2001;2:No.6.
Douglas JG, Bakris GL, Epstein M, et al. Consensus statement of the hypertension in African Americans Working Group of the International Society on Hypertension in Blacks (ISHIB). Archives of Internal Medicine. 2003;163:525-541.
Ernst ME, Bergus GR. Favorable patient acceptance of ambulatory blood pressure monitoring in a primary care setting in the United States: a cross-sectional survey. BMC Fam Pract. 2003;4:15.
Reims HM, Kjeldsen SE, Mancia G. Home blood pressure monitoring. European Society of Hypertension Scientific Newsletter: Update of Hypertension Management. 2005;6:No.12r.
Mallion JM, Schmitt D. Patient compliance in the treatment of arterial hypertension. European Society of Hypertension Scientific Newsletter: Update of Hypertension Management. 2001;2:No.7.
The information provided herein should not be used during any medical emergency or for the diagnosis or treatment of any medical condition. A licensed medical professional should be consulted for diagnosis and treatment of any and all medical conditions. Links to other sites are provided for information only -- they do not constitute endorsements of those other sites. © 1997- A.D.A.M., a business unit of Ebix, Inc. Any duplication or distribution of the information contained herein is strictly prohibited.