Eye specialist
Introduction
The purpose of this tool is to help you decide whether or not to see an eye specialist. When making a decision like this, you must balance:
The reasons for seeing the specialist
The potential health risks, drawbacks, or limitations of the specialist
Whether there are alternative specialists that may be more appropriate
Cost
This tool is not a substitute for professional medical care and advice. Work with your doctor to help you make this decision. A second opinion from another doctor or specialist may be valuable. There is usually no exact "right" or "wrong" answer.
Your doctor may make certain recommendations to you. However, the final decision about whether to see a specialist rests with you.
What does this specialist do?
A doctor trained as an eye specialist is called an ophthalmologist. Ophthalmologists are also trained to do eye surgery, such as cataract surgery, retinal detachment repair surgery, and many kinds of laser surgery.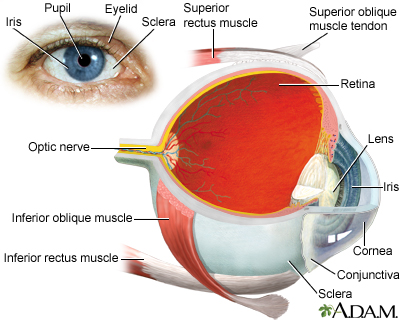 If you are having eye problems, you should have an eye examination from an ophthalmologist or an optometrist. Optometrists often are trained in diagnosing and treating some eye diseases as well as fitting glasses, but they do not do eye surgery.
Symptoms of serious eye conditions may include:
A red, painful, or very light sensitive eye (If this is accompanied by nausea and vomiting it is a critical emergency, and you should go to the nearest emergency room.)
Sudden vision loss, loss of a part of the field of vision, distortion of lines, or a dark area at the center of vision
Seeing flashing lights or floating spots
A growing dark spot or freckle on the iris or white area of the eye
An ulcer in the eyelid or loss of lashes from one area of an eyelid
Bulging or staring eyes
Crossed eyes or a white appearance in the pupil of a child
Call for your ophthalmologist for an appointment if you experience any of the symptoms mentioned above.
Key points
Many eye diseases can be treated more successfully if caught early.
People with diabetes should have an eye examination each year, even if there are no symptoms of eye problems. This exam should include dilation of the pupil with eye drops and an examination of the retina.
People with a family history of glaucoma or macular degeneration should see an eye specialist at least once every 5 years.
Glaucoma is much more common and much more severe in African Americans than in Caucasians or Asians. All African Americans above age 30 should have an examination for glaucoma.
How much time this decision tool will take
What this tool will provide
A personalized list of factors for you to weigh
Questions to ask your doctor
Alternatives to seeing a specialist
Recommended reading
---
Review Date: 9/12/2010
Reviewed By: Linda J. Vorvick, MD, Medical Director, MEDEX Northwest Division of Physician Assistant Studies, University of Washington, School of Medicine. Also reviewed by David Zieve, MD, MHA, Medical Director, A.D.A.M., Inc.
References:
Comprehensive adult medical eye examination; preferred practice pattern. American Academy of Ophthalmology. 2001.
Pediatric eye examination; preferred practice pattern. American Academy of Ophthalmology. 2001.
Robb RM. The pediatric eye examination. Principles and Practice of Ophthalmology. Vol 4:2716-2729.
Mead MD and Aiello LM. The eye and systemic disease. Principles and Practice of Ophthalmology. Vol 5:2847-3194.
The information provided herein should not be used during any medical emergency or for the diagnosis or treatment of any medical condition. A licensed medical professional should be consulted for diagnosis and treatment of any and all medical conditions. Links to other sites are provided for information only -- they do not constitute endorsements of those other sites. © 1997- A.D.A.M., a business unit of Ebix, Inc. Any duplication or distribution of the information contained herein is strictly prohibited.