X-ray
Introduction
The purpose of this tool is to help you decide whether or not to have an x-ray. When making a decision like this, you must balance:
The reasons for having the test
The potential health risks, drawbacks, or limitations of the procedure
Whether there are alternative procedures that may be more appropriate
Cost
This tool is not a substitute for professional medical care and advice. Work with your doctor to help you make this decision. A second opinion from another doctor may be valuable. There is usually no exact "right" or "wrong" answer.
Your physician may make certain recommendations to you. However, the final decision about whether to have this test rests with you.
What is the test?
X-rays are a form of electromagnetic radiation, just like visible light. When you undergo an x-ray, a machine emits the radiation as individual particles (photons) that pass through your body, on to a sensitive film.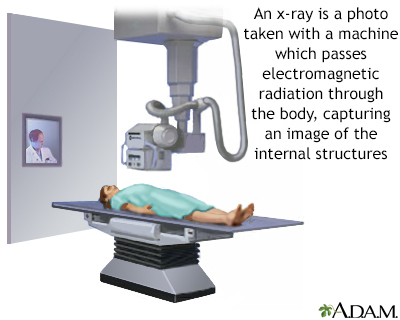 Dense body structures (such as bone) will block most of the photons. They will appear white on developed film. Structures containing air (lungs) will be black on film. Muscle, fat, and fluid will appear as shades of gray. Metal and contrast dye (intravenous or oral contrast that help the x-rays detect organs and blood vessels) block almost all the photons and will appear bright white.
There are many different types of x-rays. Some include:
Dental x-ray
Neck x-ray
Sinuses x-ray
Pelvis x-ray
Thoracic spine x-ray
Hand x-ray
Lumbosacral spine x-ray
Skull x-ray
Extremity x-ray
Bone x-ray
Joint x-ray
Chest x-ray
Abdominal x-ray
Barium x-ray
Gallbladder x-ray
Skeletal x-ray
Key points
The risk of x-rays causing cancer or having children with genetic problems (due to damaged ovarian or sperm cells) is very low.
Most experts believe that the benefits of x-ray largely outweigh the low risk of radiation exposure.
X-rays are a fast, inexpensive way to diagnose a problem.
If x-rays do not discover the reason for a problem, you may need more sophisticated imaging with CT (computed tomography), MRI (magnetic resonance imaging), or other tests.
How much time this decision tool will take
What this tool will provide
A personalized list of factors for you to weigh
Questions to ask your doctor
Alternatives to this test
Recommended reading
---
Review Date: 9/12/2010
Reviewed By: Linda J. Vorvick, MD, Medical Director, MEDEX Northwest Division of Physician Assistant Studies, University of Washington, School of Medicine. Also reviewed by David Zieve, MD, MHA, Medical Director, A.D.A.M., Inc.
References:
Chest radiography in blunt trauma patients: is it necessary? Annals of Emergency Medicine. May 2006;47(5):422-3.
Radiographic evaluation of osteoarthritis. Radiol Clin North America. January 2004;42(1):11-41.
Radiographic diagnosis of tarsal coalition. AJR Am J Roentgenol. February 2004;182(2):323-8.
Are five-view plain films of the cervical spine unreliable? A prospective evaluation in blunt trauma patients with altered mental status. Journal of Trauma. October 2003;55(4):658-63; discussion 663-4.
The information provided herein should not be used during any medical emergency or for the diagnosis or treatment of any medical condition. A licensed medical professional should be consulted for diagnosis and treatment of any and all medical conditions. Links to other sites are provided for information only -- they do not constitute endorsements of those other sites. © 1997- A.D.A.M., a business unit of Ebix, Inc. Any duplication or distribution of the information contained herein is strictly prohibited.