Cholesterol medications
Introduction
The purpose of this tool is to help you decide whether cholesterol medication is right for you. When making a decision like this, you must balance:
The reasons for taking the medication
The potential health risks, side effects, or limitations of the medication
Whether there are alternative treatments that may be more appropriate
Cost
This tool is not a substitute for professional medical care and advice. Work with your doctor to help you make this decision. A second opinion from another doctor may be valuable. Medication always has potential side effects, and you should be fully informed about the risks and benefits of this type of medication. There is usually no exact "right" or "wrong" answer.
Your doctor may make certain recommendations to you. However, the final decision about whether to use this medication rests with you.
What is the medication?
Cholesterol is a soft, waxy substance made by your body. It also comes from animal products that you eat. Cholesterol moves in your blood to all parts of your body. Many people have too much cholesterol in their blood. Cholesterol can build up in your arteries, forming plaque. This buildup of plaque is referred to as atherosclerosis and is more likely if your blood cholesterol level is high. It can lead to heart disease, heart attack, and stroke.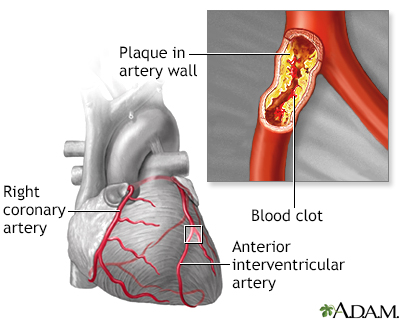 Everyone can take steps to improve their cholesterol levels:
Choose foods low in saturated fat.
Exercise regularly.
Lose weight if you are overweight.
Get routine health checkups and cholesterol screenings.
If these steps do not help, or if your cholesterol level is very high, your doctor may suggest that you take medication.
Several types of drugs can help lower blood cholesterol levels, and they work in different ways. Some are better at lowering LDL (bad) cholesterol, some are good at lowering triglycerides, while others help raise HDL (good) cholesterol.
Statins are the most commonly used drugs for treating high LDL cholesterol. Other drugs that may be used include bile acid resins, cholesterol absorption inhibitors, fibrates, probucol, and nicotinic acid (niacin).
If you are prescribed medication, do not stop taking it without consulting your doctor.
Key points
Cholesterol medicines can lower your risk of heart attack and stroke
Statins can cause muscle aches or muscle inflammation
Statins very rarely can cause liver damage
Nicotinic acid can cause flushing
How much time this decision tool will take
What this tool will provide
A personalized list of factors for you to weigh
Questions to ask your doctor
Alternatives to this medication
Recommended reading
---
Review Date: 9/19/2010
Reviewed By: David C. Dugdale, III, MD, Professor of Medicine, Division of General Medicine, Department of Medicine, University of Washington School of Medicine. Previously reviewed by David Zieve, MD, MHA, Medical Director, A.D.A.M., Inc. (5/30/2008)
References:
Smith SC Jr, Allen J, Blair SN, et al. AHA/ACC guidelines for secondary prevention for patients with coronary and other atherosclerotic vascular disease: 2006 update endorsed by the National Heart, Lung, and Blood Institute. J Am Coll Cardiol. 2006 May 16;47(10):2130-9.
Aung PP, Maxwell HG, Jepson RG, Price JF, Leng GC. Lipid-lowering for peripheral arterial disease of the lower limb. Cochrane Database Syst Rev. 2007 Oct 17;(4):CD000123.
Gaziano M, Manson JE, Ridker PM. Primary and secondary prevention of coronary heart disease. In: Libby P, Bonow RO, Mann DL, Braunwald E, Zipes DP, eds. Braunwald's Heart Disease: A Textbook of Cardiovascular Medicine. 8th ed. St. Louis, Mo: WB Saunders; 2007;chap 45.
McCrindle BW, Urbina EM, Dennison BA, Jacobson MS, Steinberger J, Rocchini AP, et al. Drug therapy of high-risk lipid abnormalities in children and adolescents. A scientific statement from the American Heart Association Atherosclerosis, Hypertension, and Obesity in Youth Committee, Council of Cardiovascular Disease in the Young, With the Council on Cardiovascular Nursing. Circulation. 2007 Mar 21; [Epub ahead of print]
Park MK. Dyslipidemia and Other Cardiovascular Risk Factors. In: Pediatric Cardiology for Practitioners. 5th ed. St. Louis, Mo: Mosby; 2008:chap 33.
Thavendiranathan P, Bagai A, Brookhart MA, Choudhry NK. Primary prevention of cardiovascular diseases with statin therapy: a meta-analysis of randomized controlled trials. Arch Intern Med. 2006 Nov 27;166(21):2307-13.
The information provided herein should not be used during any medical emergency or for the diagnosis or treatment of any medical condition. A licensed medical professional should be consulted for diagnosis and treatment of any and all medical conditions. Links to other sites are provided for information only -- they do not constitute endorsements of those other sites. © 1997- A.D.A.M., a business unit of Ebix, Inc. Any duplication or distribution of the information contained herein is strictly prohibited.