Gallbladder removal
Introduction
The purpose of this tool is to help you decide whether to have your gallbladder removed. When making a decision like this, you must balance:
The reasons for doing the procedure
The potential health risks, drawbacks, or limitations of the procedure
Whether there are alternative procedures that may be more appropriate
Cost
This tool is not a substitute for professional medical care and advice. Work with your doctor to help you make this decision. A second opinion from another doctor may be valuable. Surgery always carries risks, and you should be fully informed about the risks and benefits of this type of surgery. You should also be aware that research evidence is often limited, and the risks of surgery may not be completely understood. For this type of surgery, there is usually no exact "right" or "wrong" answer.
Your physician may make certain recommendations to you. However, the final decision about whether to have the surgery rests with you.
What is the surgery?
Your gallbladder stores and concentrates a substance called bile. Your liver creates the bile, the gallbladder stores it, and then the gallbladder sends it to your small intestine. The bile helps digest fats.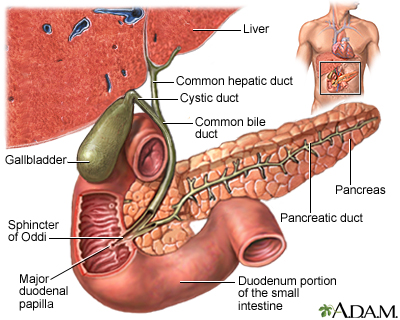 You may be considering surgery to remove your gallbladder if you have gallstones, if your gallbladder is inflamed or infected, or if cancer is suspected.
Gallbladder removal is performed while you are under general anesthesia. You will be unconscious and pain-free. It is most commonly performed through several small incisions, using a tiny video camera called a laparoscope.
In laparoscopic surgery, the laparoscope and other instruments are inserted through the small incisions. The vessels and duct going to the gallbladder are clipped and cut. Your gallbladder is removed and the small incisions are closed.
Alternatively, an "open surgery" may be performed. A larger incision is made just below the ribs on the right side of your abdomen. As with laparoscopic surgery, the vessels and ducts going to the gallbladder are clipped and cut. Your gallbladder is removed and the incisions are closed.
Endoscopic retrograde cholangiopancreatography (ERCP), along with a procedure called sphincterotomy, may be done to remove any gallstones stuck in the bile duct. During this procedure, an endoscope is inserted through the mouth and passed through the esophagus (food pipe) and stomach, until it reaches the first part of the small intestine.
Key points
Gallbladder removal should be considered if gallstones have caused medical problems. These problems might include pain due to gallstones, gallbladder infection, or inflammation, pancreas problems due to gallstones (gallstone pancreatitis), blocked bile ducts, and other problems.
As with any surgery, weigh the potential benefits against the risks. If you have pain due to gallstones or inflammation, the benefits of removing your gallbladder generally outweigh the chance of harm. If the cause of your pain is uncertain, further testing or watchful waiting may help before deciding about surgery.
The surgery involves anesthesia, which has risks that you should discuss with your doctor. Other risks of surgery include scarring, bleeding, and infection. Rarely, the main bile ducts draining your liver may be damaged. More extensive surgery will be required to restore a connection between the bile ducts and the intestines.
For gallstones that have not caused any problems or pain, surgery is usually NOT recommended. However, in some cases your doctor may think removing the gallbladder could be helpful, even before the stones cause a specific problem. For example, you may be having major abdominal surgery for some other reason, and the gallbladder is already clearly in view during the operation. And in some cases (chronic IV nutrition, post-transplant patients, and some blood disorders), complications due to gallstones are simply more likely to occur, so it may be a good idea to take the gallbladder out even if it isn't yet causing problems.
Once you have decided to have the surgery, decide with your surgeon when to have it performed, taking the circumstances of your case into account.
How much time this decision tool will take
What this tool will provide
A personalized list of factors for you to weigh
Questions to ask your doctor
Alternatives to this surgery
Recommended reading
---
Review Date: 4/7/2010
Reviewed By: Reviewed by A.D.A.M. Editorial: David Zieve, MD, MHA, and David R. Eltz. Previously reviewed by Robert A. Cowles, MD, Assistant Professor of Surgery, Columbia University College of Physicians and Surgeons, New York, NY. Review provided by VeriMed Healthcare Network (11/7/2007).
References:
Siddiqui T. Early versus delayed laparoscopic cholecystectomy for acute cholecystitis: a meta-analysis of randomized clinical trials. Am J Surg. 2008;195(1):40-47.
Chari RS, Shah SA. Biliary system. In: Townsend CM, Beauchamp RD, Evers BM, Mattox KL. Sabiston Textbook of Surgery. 18th ed. St. Louis, Mo: WB Saunders; 2007:chap. 54.
Afdhal N. Diseases of the gallbladder and bile ducts. In: Goldman L, Ausiello D, eds. Cecil Medicine. 23rd ed. Philadelphia, Pa: Saunders Elsevier; 2007:chap. 159.
The information provided herein should not be used during any medical emergency or for the diagnosis or treatment of any medical condition. A licensed medical professional should be consulted for diagnosis and treatment of any and all medical conditions. Links to other sites are provided for information only -- they do not constitute endorsements of those other sites. © 1997- A.D.A.M., a business unit of Ebix, Inc. Any duplication or distribution of the information contained herein is strictly prohibited.